Here are some of the great pieces of Orient and Flume art glass we have in our antiques mall. These unique one of a kind pieces are beautiful and very collectible. We always have a large selection of art glass inside our antiques mall including Orient & Flume.

We Buy Art Glass! We also buy unique pieces of art glass. If you have pieces you would like to sell or want help establishing a value on your art glass Contact Us!




These beautiful pieces come in a huge array of colors and styles. They can be found all over the world and their low cost makes them very collectible. Orient and Flume can also be found in many Museums including The Metropolitan Museum of Art, The Smithsonian Museum, and The Sandwhich Glass Museum.



Watch our Orient and Flume Video!


It is also fun to note this was one of our very first videos!


Please below several pieces of Orient & Flume from our antiques mall with a brief description. Contact us for more information.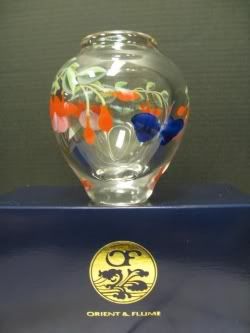 Fucshia with butterfly cased vase
FUCSHIA WITH BUTTERFLY CASED VASE SIGNED BY ARTIST & BOX. FUCSHIA WITH BUTTERFLY CASED VASE MEASURES ABOUT 6 1/2 INCHES TALL AND ABOUT 5 1/4 INCHES WIDE. EACH PIECE IS AUTOGRAPHED BY THE ARTIST THAT CREATED THE ONE OF A KIND HAND MADE GLASS ART AND HAS A NUMBER OF AUTHENTICITY. Sale $449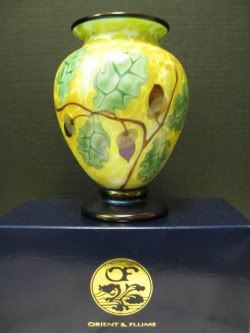 Large Gold Acorn Vase
THIS ORIENT & FLUME VASE MEASURES ABOUT 8 INCHES TALL. ONE OF A KIND ART GLASS, BOX, & PAPER. THIS ORIENT AND FLUME PIECE IS AUTOGRAPHED BY THE ARTIST THAT CREATED THIS ONE OF A KIND HAND MADE ART GLASS AND HAS A NUMBER OF AUTHENTICITY. THIS PIECE IS IN EXCELLENT CONDITION. Sale $449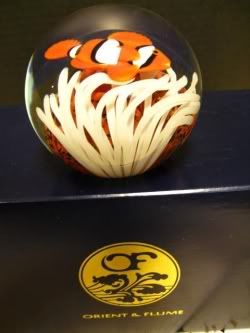 Clown fish cased glass paperweight
ORIENT AND FLUME CLOWN FISH CASE PAPERWEIGHT. THIS ORIENT & FLUME PAPERWEIGHT MEASURES ABOUT 3 INCHES TALL AND ABOUT 3 INCHES WIDE. ONE OF A KIND ART GLASS, BOX, & PAPER. THIS ORIENT AND FLUME PIECE IS AUTOGRAPHED BY THE ARTIST THAT CREATED THIS ONE OF A KIND HAND MADE ART GLASS AND HAS A NUMBER OF AUTHENTICITY. THIS ORIENT & FLUME PIECE IS IN EXCELLENT CONDITION. Sale $449


Red beta fish cased egg paperweight
RED BETA FISH CASED PAPERWEIGHT. THIS ORIENT & FLUME PAPERWEIGHT MEASURES ABOUT 4 1/4 INCHES TALL. ONE OF A KIND ART GLASS, BOX, & PAPER. THIS ORIENT AND FLUME PIECE IS AUTOGRAPHED BY THE ARTIST THAT CREATED THIS ONE OF A KIND HAND MADE ART GLASS AND HAS A NUMBER OF AUTHENTICITY. THIS ORIENT & FLUME PIECE IS IN EXCELLENT CONDITION. Sale $399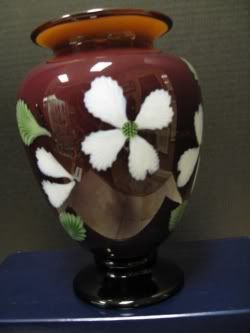 White dogwood vase
THIS ORIENT & FLUME VASE MEASURES ABOUT 8 INCHES TALL. THIS ORIENT & FLUME VASE IS IN EXCELLENT CONDITION. ONE OF A KIND ART GLASS, BOX, & PAPER. THIS ORIENT AND FLUME PIECE IS AUTOGRAPHED BY THE ARTIST THAT CREATED THIS ONE OF A KIND HAND MADE ART GLASS AND HAS A NUMBER OF AUTHENTICITY. THIS ORIENT & FLUME PIECE IS IN EXCELLENT CONDITION. Sale $489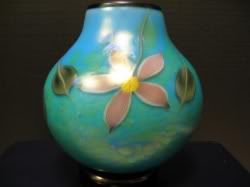 White iris speckaled vase
WHITE IRIS SPECKALED VASE. THIS BEAUTIFUL VASE MEASURES ABOUT 6 INCHES TALL. ONE OF A KIND ART GLASS, BOX, & PAPER. THIS ORIENT AND FLUME PIECE IS AUTOGRAPHED BY THE ARTIST THAT CREATED THIS ONE OF A KIND HAND MADE ART GLASS AND HAS A NUMBER OF AUTHENTICITY. THIS ORIENT & FLUME PIECE
IS IN EXCELLENT CONDITION. Sale $369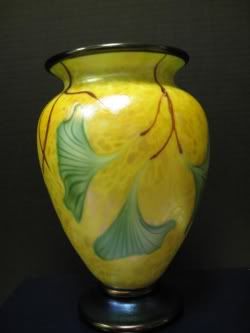 Ginko Gold Vase
VASE MEASURES ABOUT 8 1/2 INCHES TALL. ONE OF A KIND ART GLASS, BOX, & PAPER. THIS ORIENT AND FLUME PIECE IS AUTOGRAPHED BY THE ARTIST THAT CREATED THIS ONE OF A KIND HAND MADE ART GLASS AND HAS A NUMBER OF AUTHENTICITY. THIS ORIENT & FLUME PIECE IS IN EXCELLENT CONDITION. Sale $449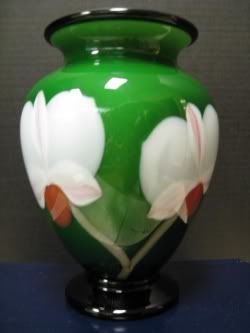 Green vase with white flowers
THIS IS A VERY NICE GREEN VASE WITH WHITE FLOWERS. VASE MEASURES ABOUT 8 1/2 INCHES TALL. ONE OF A KIND ART GLASS, BOX, & PAPER. THIS ART GLASS VASE IS AUTOGRAPHED BY THE ARTIST THAT CREATED THIS ONE OF A KIND HAND MADE ART GLASS AND HAS A NUMBER OF AUTHENTICITY. THIS VASE IS IN EXCELLENT CONDITION. Sale $489

Antherium cased paperweight
ANTHERIUM CASED GLASS PAPERWEIGHT. THIS PAPERWEIGHT MEASURES ABOUT 5 1/4 INCHES TALL AND IS IN EXCELLENT CONDITION. ONE OF A KIND ART GLASS VASE WITH BOX & ORIGINAL PAPER CERTIFICATE. Sale $395

Daffodils cased glass paperweight
DAFFODILS CASED PAPERWEIGHT. THIS ORIENT & FLUME PAPERWEIGHT MEASURES ABOUT 4 3/4 INCHES TALL. THIS CASED PAPERWEIGHT IS IN EXCELLENT CONDITION. ONE OF A KIND ART GLASS, BOX, & PAPER. THIS ORIENT AND FLUME PIECE IS AUTOGRAPHED BY THE ARTIST THAT CREATED THIS ONE OF A KIND HAND MADE ART GLASS AND HAS A NUMBER OF AUTHENTICITY. Sale $395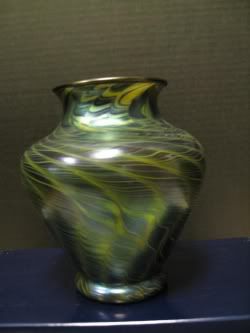 Orient and Flume swirl pattern vase
THIS NICE ART GLASS VASE MEASURES ABOUT 6 1/4 INCHES TALL AND IS IN EXCELLENT CONDITION. THIS IS A ONE OF A KIND ARTIST SIGNED ART GLASS VASE WITH ORIGINAL BOX, CERTIFICATE OF AUTHENTICITY, AND ORIENT & FLUME PAPER. Sale $475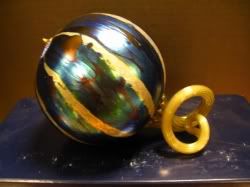 Blue round squash figurine
BLUE ROUND SQUASH MEASURES ABOUT INCHES 4 1/2 TALL. THIS ORIENT & FLUME GLASS PAPERWEIGHT IS IN EXCELLENT CONDITION. ONE OF A KIND ART GLASS, BOX, & PAPER. THIS ORIENT AND FLUME PIECE ONE OF A KIND HAND MADE ART GLASS AND HAS A NUMBER OF AUTHENTICITY. Sale $149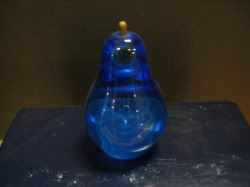 Pear Blue Vortex Paperweight
PAPERWEIGHT MEASURES ABOUT 4 3/4 INCHES TALL. THIS ONE OF A KIND ART GLASS PIECE IS IN EXCELLENT CONDITION AND COMES WITH ORIGINAL BOX AND PAPER. Sale $99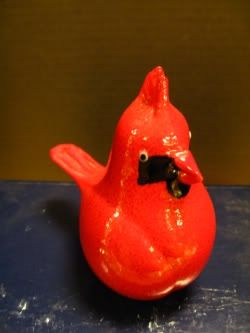 Red Cardinal Glass Paperweight
CARDINAL MEASURES ABOUT 4 1/4 INCHES TALL. THIS ORIENT & FLUME GLASS BIRD IS IN EXCELLENT CONDITION. ONE OF A KIND ART GLASS, BOX, & PAPER. THIS ORIENT AND FLUME PIECE ONE OF A KIND HAND MADE ART GLASS AND HAS A NUMBER OF AUTHENTICITY. Sale $79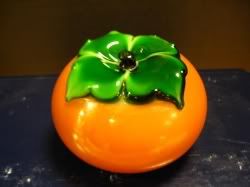 Persimmon Glass Paperweight
THIS GLASS FRUIT PAPERWEIGHT MEASURES ABOUT 2 1/2 INCHES TALL.THIS ORIENT AND FLUME PIECE ONE OF A KIND HAND MADE ART GLASS AND HAS A NUMBER OF AUTHENTICITY. THIS ORIENT & FLUME PIECE IS IN EXCELLENT CONDITION. Sale $79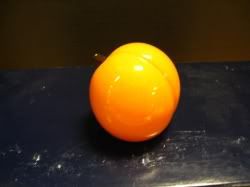 Apricot Glass Paperweight
PAPERWEIGHT MEASURES ABOUT 2 1/2 INCHES TALL. THIS ORIENT & FLUME APRICOT IS IN EXCELLENT CONDITION. ONE OF A KIND ART GLASS, BOX, & PAPER. THIS ART GLASS PAPERWEIGHT HAS A NUMBER OF AUTHENTICITY. Sale $69