Antique Oak Furniture

Antique oak furniture offers a very wide range of applications in home design. It looks great when used in an old country style, or very elegant in a Victorian setting, and everything in between. Whatever your taste in home decor antique oak furniture can play a role. See below a few pieces we have showcased for you and remember that we even more in our huge antiques and art mall.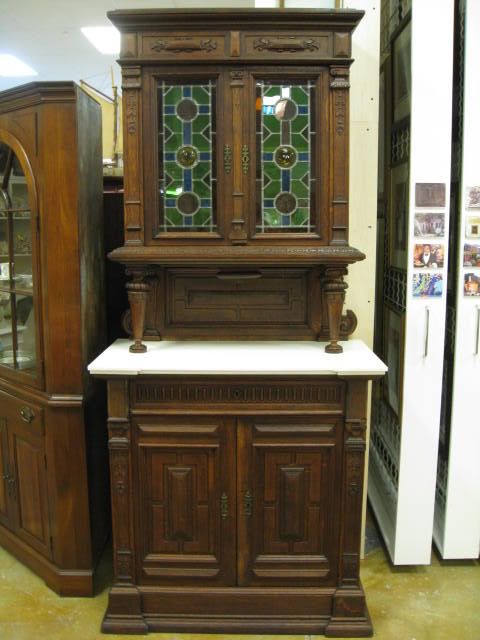 Antique Oak Pantry Cupboard
This is a beautiful piece of antique furniture. It's an antique tiger oak cupboard with stained glass doors and a hard surface top. This is a large piece standing just over seven feet tall. It has very nice ornate carvings and is in great overall condition.
SOLD
Antique Oak Buffet Server
Beautiful antique oak furniture piece we have in our antiques mall. It features a very ornate carved top with a big antique mirror. This antique oak piece could be used as a bar. It also has large drawers and two cabinet doors. It stands 80" tall, 46" wide, and 24" deep. This is a very nice piece of antique furniture of oak.
Sale $1,295
Antique oak Dresser
This is a great antique dresser made from beautiful oak. It stands 80" tall and is 43" wide. This antique oak dresser has a large swivel mirror. It features a side cabinet with two drawers under it. There are also two large drawers on the bottom. This antique oak dresser in great condition!
$Sale 649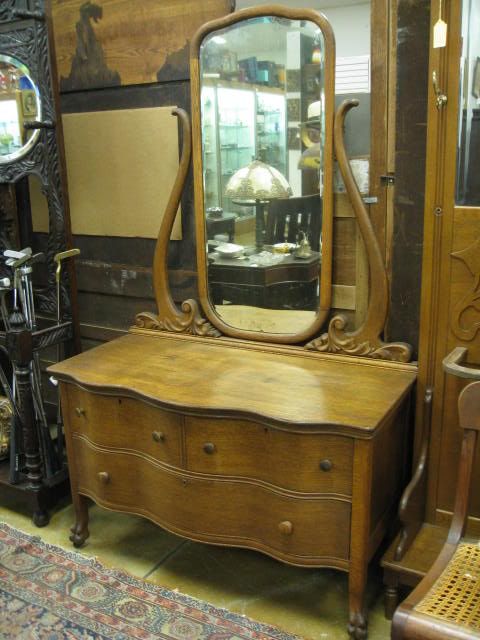 Antique Tiger Oak Vanity Dresser
This oak antique dresser is made with beautiful tiger oak. It has a swivel mirror held by two curved arms. This antique oak dresser has three large drawers with serpentine drawer fronts. It also has lion paw feet with wooden wheels. This is a really nice piece of antique furniture at a great value!
Sale $349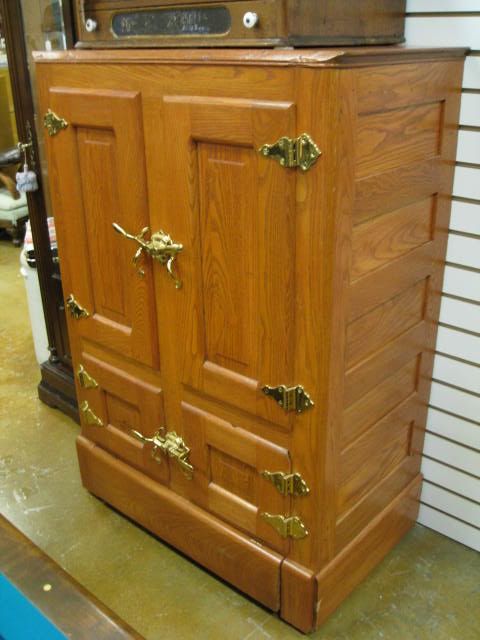 Antique Oak Gibson Ice Box
This is a very nice old Gibson Ice Box in great condition. It's made a beautiful oak wood and has a lot of character. This piece of antique furniture could be used in many different areas and is just one of the unique antique treasures you will find in our antiques mall.
SOLD
Antique Brunswick Pool Table &
Oak Dining Table Combo
This is a very nice antique Brunswick pool table that also converts to a large oak dining table. Brunswick pool tables are quite collectible and this one is in great condition. This antique pool table can quickly become a dining table with a very nice oak top in just minutes. This is just one of the neat treasures we have in our antiques mall.
SOLD

Antique Oak Pedestal Stand
This is a great antique oak pedestal we have in our antiques mall. This is a nice example of the Mission Arts & Crafts style. It is in great condition and stands 37" tall. This stand will showcase your antique pottery very well.
Sale $175
Antique Oak Furniture is highly sought after by both collectors and novices who just want to add a piece or two to their home. Oak has been used since Medieval times due to the availability and strength of the wood. Because of its popularity throughout the ages, antique oak furniture is relatively easy to find. Gannon's Antiques & Art always has a nice selection of antique oak tables & chairs, desks, antique dressers, dry sinks or oak beds. In addition, we also find oak pedestals, hall coat racks, antique china cabinets, grain bins, antique benches and so much more.
Oak wood has a very distinctive and pretty grain which has been used in antique furniture to show it off at its best. Quarter sawn oak is also called tiger oak because, due to the way in which it was cut, the grain resembles the stripes on a tiger. This cut was wasteful but achieved beautiful results, which is why it is usually seen on the more expensive antique furniture pieces.
Antique oak furniture comes in a variety of shades. Oak is naturally a light to medium wood. It can be found in what some people call blonde oak, which is the lightest shade, medium oak and dark oak. If you find a piece of antique oak furniture that is too light to match the rest, it can be stained darker.
There is a lot of antique Victorian furniture in oak. It can be very decorative with lots of embellishments and curvy lines. There is also the Victorian Eastlake style that has straighter lines which was very popular around 1875-1890s. Atique oak furniture will dress up a home with just a few accent pieces. It can also be used throughout an entire home to create the ambiance of a bygone era especially since there are so many accessories that are also made of antique oak such as antique clocks, picture frames, and antique oak mirrors.
The Arts and Crafts era which is also known as the Mission style was very popular during the 1860-1910 period. This style is known for its straight lines, high quality wood and few embellishments. William Morris and Gustav Stickley are two well known craftsman of this style. Oak was a desirable wood for use in this era due to its sturdiness and the fact that the grain itself could be all the decoration needed on the piece.